Florian Smeritschnig Case Coaching
$399.00
The session is completely tailored to your needs and usually takes between 75 and 90.
We can work on the following tasks:
Full case diagnostic with real case and real evaluation metrics, introduction to the 1% Case Method, detailed feedback, and preparation plan
Detailed fit interview session with simple and challenging fit questions with detailed written and verbal feedback
McKinsey PEI session, simulating all PEI interviews for the 4 PEI dimensions
Real mock interview with fit interview and case interview
Tailored drills to work on your weaknesses or elevate your strengths
Application, networking, and referrals discussion
Industry and career coaching
…
100% secured checkout via
Description
Discover the secrets of effective case-solving…
…and storytelling with the intuitive consulting interview approach I've developed. This methodology has proven so successful that I helped generate more than 450 consulting job offers for my clients within a span of 3.5 years, making me the most successful case coach globally (with over 1,200 reviews across platforms).
▶ Click here for an introduction to my approach and selection of 450+ consulting offers

Your Success in a Nutshell:
Every month, my coaching transforms multiple candidates into top-tier consultants. By choosing me, you are going for verified success stories visible across PrepLounge, StrategyCase.com, and Amazon – a testament to my leading position and the success of my clients in the global case interview preparation space.
Equip yourself with insights from "The 1%: Conquer Your Consulting Case Interview", the best-selling new case interview book. And, with "Consulting Career Secrets", pave your way for a lasting and rewarding journey with premier consulting firms. I don't just coach to get you into top consulting firms. My goal is to make sure you create a rewarding and successful career.
Dive into a holistic preparation experience: ongoing mentorship, boundless practice opportunities, and elite courses and drills proven by tens of thousands of successful applicants. With tailored practice resources and videos I personally crafted for StrategyCase.com, your consulting success isn't just possible; it's engineered.

---
Free Consultation and Screening Calls
Curious about my approach, success rate, or any aspect of consulting application? Reach out to schedule a no-obligation introductory call. I'm here to answer your questions and guide you along the way.
>> Book your free consultation here

---
Your Golden Ticket to Multiple Consulting Offers
Discover how you can leverage my expertise and gain an unmatched advantage in securing your dream offers:
✅ The Unbeatable Track Record: Achieve your consulting career goals with a coach who has the highest verified success rate on the web. I have helped generate more than 450 prestigious offers for my direct coaching clients, 160 of which are from McKinsey – deemed the world's toughest firm to crack by Forbes – in just 3  years. My decade-long tenure in the consulting space, especially the 5 years at McKinsey, and my unique approach to problem-solving make me your best ally. My coaching reputation? Simple: More than 1,200 reviews across platforms and clients that regularly outshine their competition with multiple offers, with some even bypassing the final interview rounds!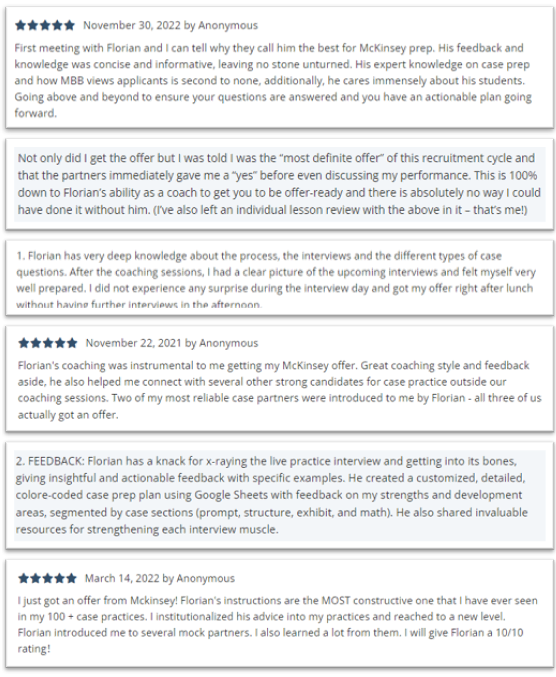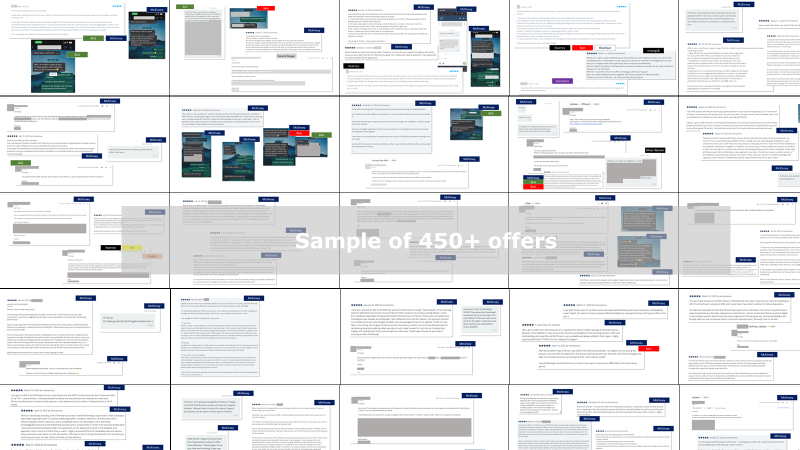 ✅ Think & Speak Like a Pro Consultant: You won't find cookie-cutter frameworks and approaches here. Dive deep into a tailored case-solving method that prioritizes first-principles thinking, hypotheses-driven thinking, intuitive problem-solving, and effective communication. The replicable approach works both for candidate-led and interviewer-led case interview formats and touches on every facet: metacognitive case skills, creative problem-solving, impactful communication, and story crafting for personal fit and PEI interviews. The techniques will help you to come up with creative answers for structure and brainstorming questions, interpret charts the right way (including the typically hidden insights), and succeed in the quantitative section of the case. You'll become the candidate that stands out in every firm, not just fits in. For fit interviews, I have developed a new and unique storytelling framework (the SCORE framework) that has been included in the training of new hire consultants of some consulting firms and offices. You will learn how to create and tell exciting stories that make you stand out in front of your interviewers.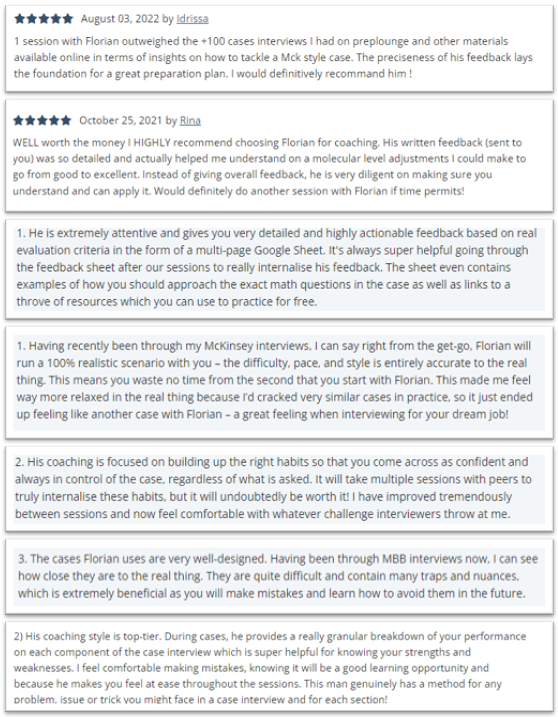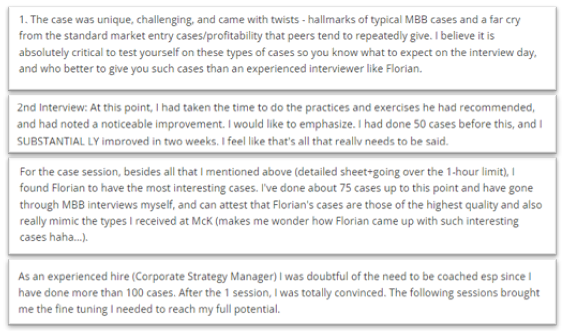 ✅ Comprehensive Support – Start to Finish & Beyond: Our partnership extends beyond just sessions. With comprehensive case practices (based on sessions and not billed hours – we always take as long as we need), detailed feedback, personalized preparation plans, and a suite of free resources, your success is meticulously engineered. And it doesn't end there; you receive ongoing mentorship, direct contact with me for questions, and genuine advice – even if it means recommending fewer sessions.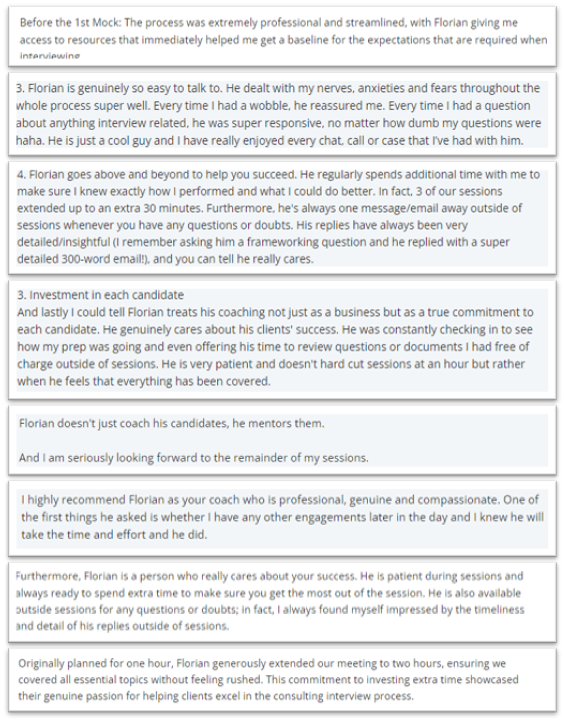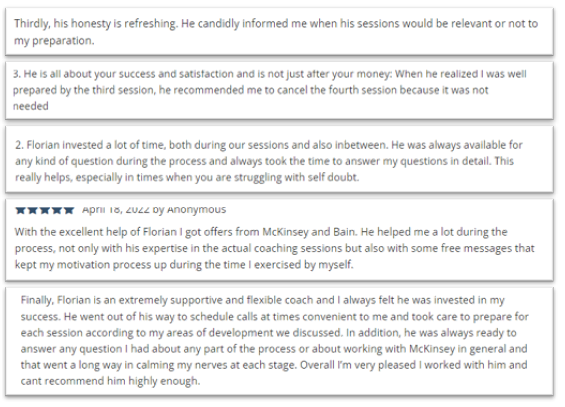 ✅ Tailored Prep for Maximum Impact: Your journey is unique, and so is the preparation. We curate sessions based on your needs, selecting from my diverse library of real and up-to-date consulting cases – based on real case interview standards and evaluation criteria of different firms. Whether it's current events or emergent trends, I have you covered. And if there's a specific area you'd like to focus on? I'll custom-design cases to suit your ambitions.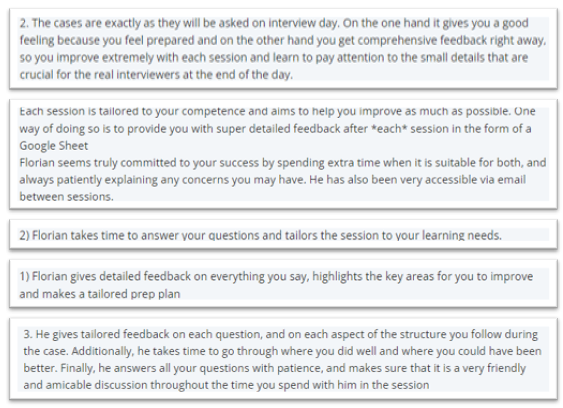 ✅ Empower Your Independent Preparation: Our collaboration equips you for your independent journey too. After our sessions, you receive a meticulously crafted preparation plan and access to exclusive StrategyCase.com resources. If you're aiming for multiple sessions, our game plan is dynamic, adjusting after each meeting to ensure you're always on the fastest track to your goal.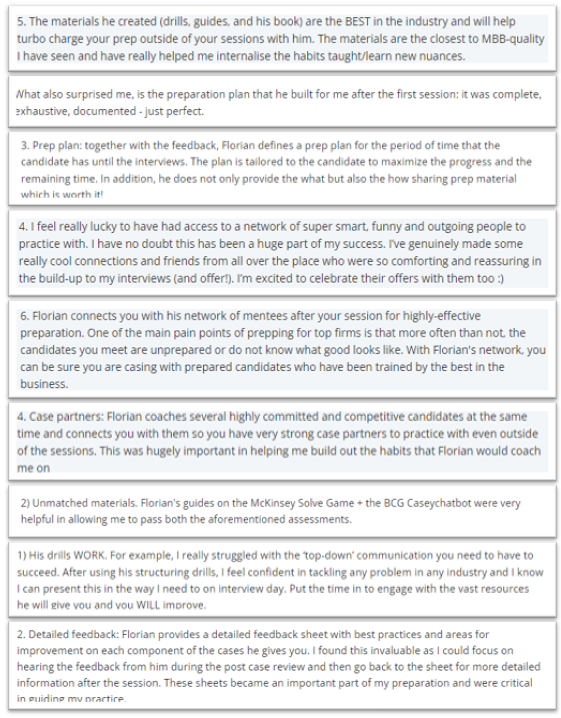 ✅ Consistent Excellence: Since I started case coaching, I've consistently been rated the top coach on PrepLounge, maintaining that position to this day (based on reviews and offer rates, not participation trophies). I offer a global, up-to-date perspective on top-tier firm recruiting, serving candidates across the spectrum: from complete novices to industry experts for Partner positions.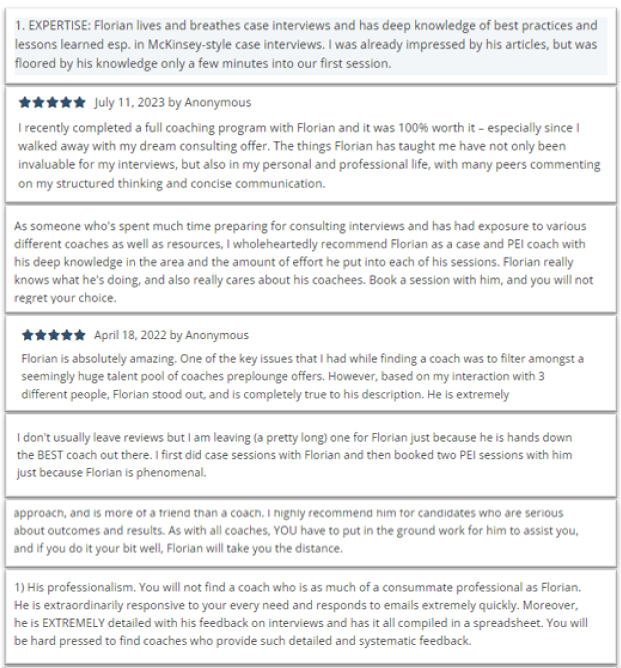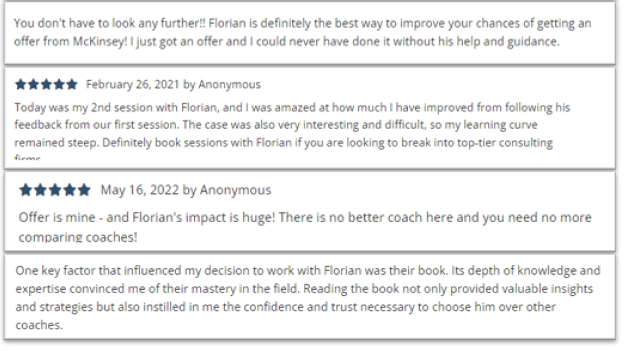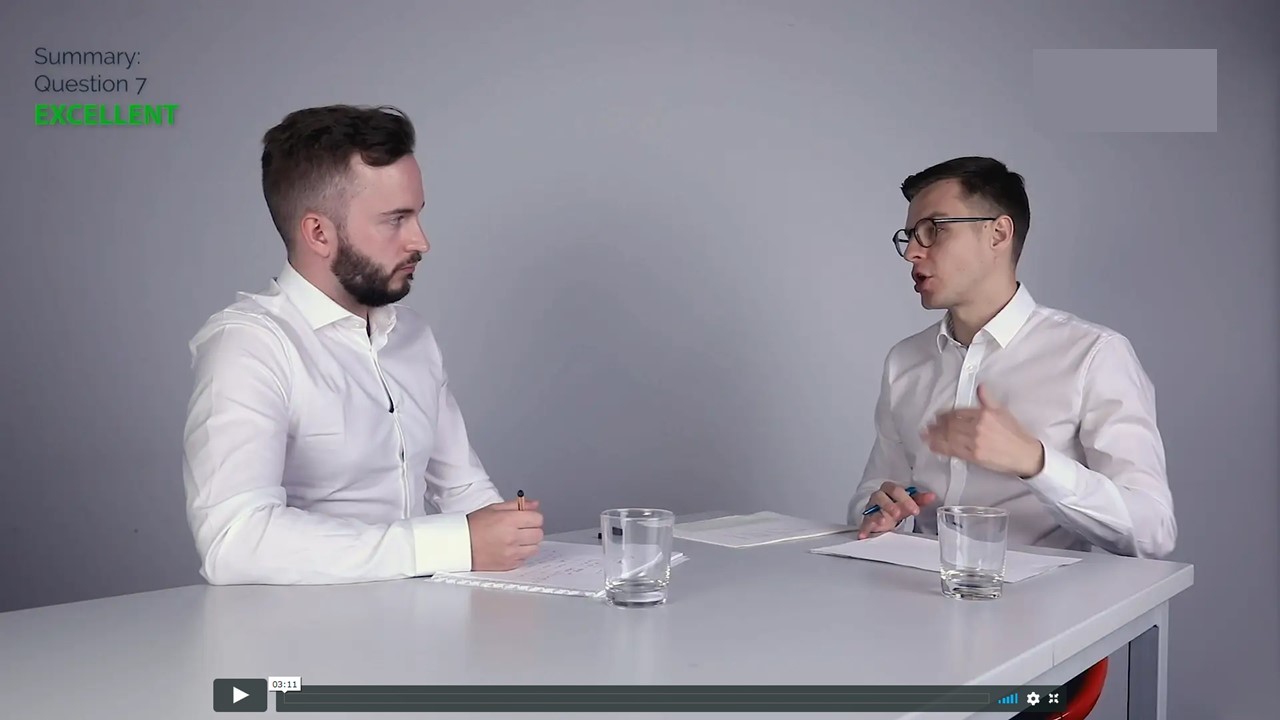 ✅ Cultivating Unshakable Confidence: One of the transformative aspects of our collaboration is not just the technical mastery you'll gain but the deep-seated confidence you'll develop. Clients often share how, through our sessions, they transition from feelings of uncertainty and overwhelm to a state of empowered assurance. This confidence isn't just about acing the interview – it's about recognizing your value, enhancing your intrinsic problem-solving capabilities, and trusting in your capacity to tackle challenges head-on. By the end of our coaching, you won't merely be ready for your consulting interviews; you'll approach them with a poised certainty that sets you leagues apart.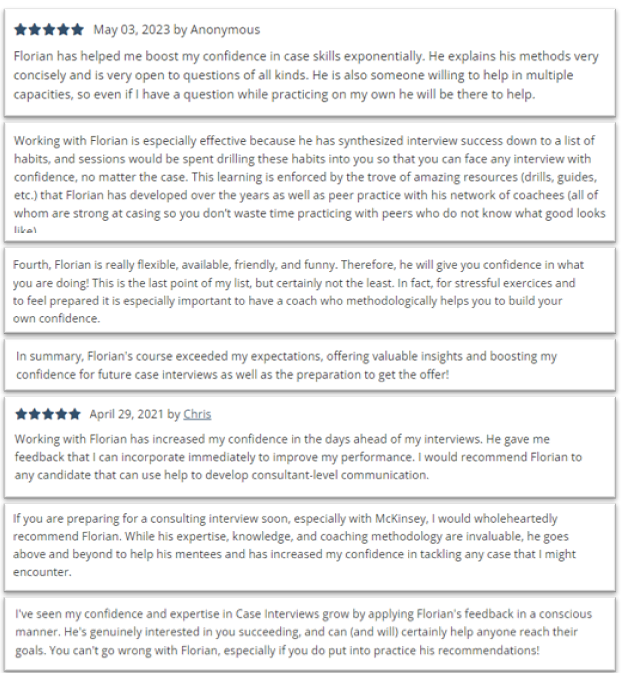 Reach out for a free introduction call if you want to learn more!
Let's ensure your aspirations aren't just dreams but tangible realities. Your next step in the world of elite consulting is just one decision away.
About Me
Like you, I've been through the challenging phases of consulting interviews (once for internships and once for full-time roles). Despite rigorous preparation, I often felt inadequately prepared, some cases went well, others didn't, and I had a hard time figuring out why. This struggle that I also witnessed across my peer group became my motivation to change the landscape of consulting recruiting and interview training completely.
I envisioned a new approach to consulting interviews and once I left McKinsey in early 2020, I built StrategyCase and everything it entails into what it is today.
When I started StrategyCase.com, I noticed that the information on the top-tier consulting application process, the case interviews, the fit and PEI, and the different aptitude tests and games that is often circulated is either wrong, outdated, or assumed to be the same for any consulting firm. Consequently, the advice given can be detrimental to your recruiting success with the top firms.
I'm your go-to McKinsey consultant for cracking the enigmatic case and fit interview code. With a deep-seated passion for this competitive industry, I've made it my mission to usher aspiring consultants into the big leagues – McKinsey, BCG, Bain, and other reputable firms.
Over the past three years, I've developed and perfected a unique case interview approach, resulting in more than 450 consulting offers for my clients. Of these, a remarkable 160 were from McKinsey, notoriously the toughest firm to crack, based on a study by Forbes. My innovative strategies and relentless dedication have proven time and again to yield successful outcomes, substantiating my reputation as the most successful McKinsey case coach on the web.
Over the last three years, I have built a consulting application and career platform as a beacon of knowledge and guidance, having reached more than 1 million consultant applicants and new hires. With my relentless coaching and mentoring, I am leading numerous candidates month after month to secure coveted offers from top-tier consulting firms.
Beyond just coaching, I've also penned two insightful books: 'The 1%: Conquer Your Consulting Case Interview' and 'Consulting Career Secrets'. The first has achieved Amazon best-seller status for new case interview books, while the second serves as an extensive guide to thriving in the challenging environment of high-caliber consulting firms.
My engagement with consulting is not confined to coaching or writing. I recently launched my own boutique consulting and advisory firm, keeping me directly involved in the consulting world as well as recruitment and interviewing processes. This hands-on experience allows me to provide you with insights and advice grounded in the current industry landscape, offering unparalleled relevance and value.
In essence, my mission is to make your consulting dreams come true. Leveraging my expertise, invaluable resources, and unwavering commitment to your success, I stand ready to lead you into the esteemed world of consulting. Together, we'll conquer the challenges, honing your problem-solving skills to unlock your full potential and secure your place among the consulting elite.
If you are not looking for a coach or just need some free text-based advice, feel free to shoot me a message and ask for advice. I have learned a lot in this industry and I want to pay it forward!
If you are in the market for a coach, please reach out for a mutual introduction and quick learning session.
Let's work together on your offers!
Florian